Some thoughts on some of the shit i've been watching:
MirrorMask (Dave McKean, 2005)
- This is another entry into the ג€œgirl enters fantasy world to escape the horrors of the real worldג€ sub-genre. I donג€™t know what it is about these movies but they get me everytime. This isnג€™t as good as Panג€™s Labyrinth or Paperhouse but pretty great in its own right. The girl is part of a family of traveling circus performers and when her mother falls ill, the circus shuts down. The girl enters the dreamworld and must fight off evil while attempting to retrieve the mirrormask and save the kingdom. This was made by Jim Hensonג€™s company and is very unique visually and they created some really great eye candy on a modest budget by combining live action with puppetry, cgi and hand-drawn animation. Recommended.
The Hellbenders (Sergio Corbucci, 1967)
ג€" Corbucci is one of the goat Spaghetti Western directors but this surprisingly is very much an American-style western, more in tune with Howard Hawks than the typical Italian bloodbaths. Joseph Cotten stars as a man who attempts to smuggle stolen money in a coffin across the desert with his sons in an attempt to finance the resurrection of the Confederate Army, only they meet a lot of resistance from everyone from the Union Army to Indians.
A Scanner Darkly (Richard Linklater, 2006)
ג€" I watched this fucked up out of my mind on Percocet, not really a good idea as it confused the shit out of me and I donג€™t remember fuckall about it. Iג€™ll have to revisit it again I guess. It looked pretty on bluray though.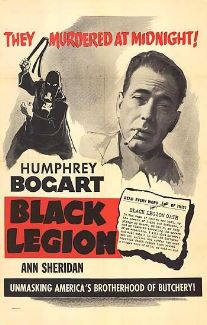 Black Legion (Archie Mayo, 1937)
ג€" This is a very underrated Humphrey Bogart film about a good family man who loses out on a job promotion to a foreigner and in his vulnerability and anger gets sucked into a KKK-esque underground organization called the Black Legion. Once he begins down the path of destruction he loses sight of everything thatג€™s important to him; friends, family, career and things only get worse from there.
Beauty and the Beast (Kirk Wise & Gary Trousdale, 1991)
ג€" I only bought this cause I found a deal to get it packaged with Bambi and Pinochio for like $35 total but I was surprised how much I really enjoyed this on bluray as I never really cared for it at all when I was younger. Gaston really is one of the all-time biggest douchebags in history and the films darker tone and art style were pretty enjoyable.
Back to the Future (Robert Zemeckis, 1985)
Back to the Future Part II (Robert Zemeckis, 1989)
ג€" Watched both of these back to back and the respective 2 hour making of documentary. Iג€™ve seen both films so many times that I actually enjoyed the docu more than the films I think, pretty informative. The whole idea of the sequel revisiting the original movie from a different perspective is still one of the cooler sequel ideas ever. Classic shit.
Batman & Robin (Joel Schumacher, 1997)
ג€" Even worse than I remembered but definitely more ג€œbad in a good wayג€ than just all around awful. I love that Batman and Robin both have retractable ice skating blades in their boots, you know, just in case they wanna hold hands and go around the rink a couple times. And donג€™t get me started on Bat Girl.
Pirates of the Caribbean: On Stranger Tides (Rob Marshall, 2011)
ג€" I know this series hasnג€™t really been exceptional outside of the first movie but I still end up getting sucked into the theater every time. The main draw is still Deppג€™s Jack Sparrow but Ian McShane was an excellent addition to the cast and Penelope Cruz is pretty good eye candy. Plus no more faggotass Orlando Bloom and the silly Kiera Knightly love triangle. This movie has topless killer mermaids. Lazy afternoon fodder, they really should reboot this series as a hard R with blood and wench titties.
The Wild Angels (Roger Corman, 1966)
ג€" Cormanג€™s biker tale about a group of Hells Angels who sneak over the border to Mexico to recover one of their memberג€™s (Bruce Dern) stolen bike. Only during the getaway Dern is shot and hospitalized, leaving the Angels to break him out of the guarded hospital. Peter Fonda plays the lead as the gang leader and while I will always appreciate that he helped spawn the biker movie movement, having grown up around bikers all my life he never really seems the part to me, dude comes off as too much of a pussy, not the leader of one of the roughest gangs in history.
New Tale of Zatoichi (Tokuzo Tanaka, 1963)
ג€" The 3rd film about Ichi and possibly my favorite yet. Really got sucked into this one, which also happened to be the first of the series in color.
Attack of the Crab Monsters (Roger Corman, 1957)
ג€" This is another silly Corman low-budget sci-fi/horror movie about a group of scientists sent to a remote island near the location of H-bomb testing to investigate the disappearance of one of their colleagues. They soon find that the scientist they are looking for isnג€™t actually dead, his soul is still alive in the body of giant mutant crabs and is talking to them. Seriously. Oh and the giant crabs are burrowing out the island at a fast pace and sinking it into the ocean and are immune to bullets. Corman is the master of making a fun movie out of no money and a terrible story and this didnג€™t disappoint.
Let Me In (Matt Reeves, 2010)
ג€" I swore I was going to never watch this but after favorable reviews here on this site and elsewhere, I finally caved. While I donג€™t like it nearly as much as Spartan and imo it still doesnג€™t hold a candle to the original (which for the record is my third favorite film from the last decade), this is a quality remake and one Hammer can be proud of. Moving the setting to 80ג€™s New Mexico works surprisingly well (has there ever been a movie set in NM in the snow before?) and director Matt Reeves obviously has done his homework and has a lot of respect for the original. About