We all love watching guys lose their cool and go at it. Outside of the obvious Palace Brawl, what are your favorite/the best ones?
Some relatively recent ones just off the top of my head:
*Red Sox vs. Yankees - Alex Rodriguez getting shoved in the face was great but it wasn't even the best part! Is this the greatest sports moment ever?
*Kobe vs. Chris Childs - A bit girly but nonetheless hilarious, watching two grown men trying to act hard. Attention Kobe Bryant: you punch weaker than a white girl about to get it in the butt.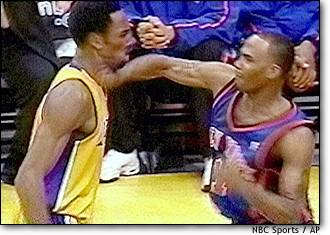 *Doug Christie vs. Rick Fox - Have you ever seen such a clean uppercut landed? I love this game.
_________________
Quality stitched MLB, NBA, NFL, and soccer jerseys:
https://www.etsy.com/shop/FanJerseyz