Shit.
I had opened this thread thinking that you found the original.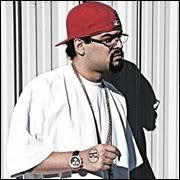 Name: A-Wax
Aliases: Wax-fase, A-Wax Ru, Young Pittsburg
Location: Pittsburg, CA
Favorite Words: Husalah, snitch
- been in the game officially since 2001 with the release of
Savage Timez
. Spent 5+ years in the pen before deciding to rap.
- no
real
affiliations to speak of. he's collaborated with a lot of bay area mobb rappers but he's pretty much a loner (as becomes clear when you hear his music)
- his best (or my favorite) material would be
The Rat Trap: (Unconditional Thug Pre-Album Mixtape Vol. 2)
and his most consistent & cohesive official album that could be suggested is
Thug Deluxe
from 2004.
- his beef with the Mob Figaz is weird because if you ever saw his posts from the old days on siccness, he would champion the fuck out of the Figz. Reminding people of release dates, starting appreciation threads, etc.
Things went sour when a good amount of Wax's team got locked up over drug charges/ cell phone conversations. It was implied that Hus had something to do with it.
Situation worsened when Hus got caught with work and was allowed time to wrap up his music career before turning himself in. Also the amount work Husalah was caught with and the amount of time received didn't match up to Wax, further fueling his suspicions of Husalah being an informant/ cutting deals.
He plays a hood reporter of sorts. Keeping a running list of rappers whom he's deemed snitches (including BA of 3XKrazy, Mob Figaz affiliate Uzi, & Husalah of course)
Really unique character. His subjects aren't anything new, but all of his content is unique to him due to his vivid narrating, insight, and slick way of stating things.
I'll upload a lot of the music that was in the other thread in here.